According to the President's Council on Fitness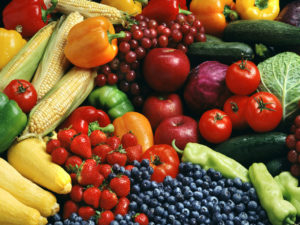 , Sports & Nutrition, making proper food choices affects your health every day and is essential to maintaining a healthy lifestyle. Poor dietary choices lead to obesity and other health risks such as diabetes and high blood pressure. Some forms of cancer are also associated with poor diet and inactivity.
It doesn't take a lot of effort to change current eating habits into healthier ones. Making simple, healthy changes to any eating regimen will help to increase weight loss and promote an overall healthy lifestyle.
Here are seven tips to eating better:
Reduce salt intake
Switch to whole grains
Add fish and heart-healthy fats
Load up on fruits and vegetables
Cut saturated and trans fat intake and other processed foods
Reduce soda and other carbonated drinks
Choose lean protein foods such as turkey, chicken and lean cuts of ground beef
The key is balance. One should aim for high intakes of fruit and vegetables and reduce foods high in salt and sugar. This doesn't mean cutting out things like chocolate and crisps altogether but reducing quantity and frequency in relation to healthier foods.
Balancing the mind/body connection
"Every living creature needs sleep," says The National Sleep Foundation because the sleep-wake cycle known as Circadian rhythms help to regulate the body and repair itself. When the sleep cycle is disrupted, there is a disruption in the natural brain activity the body needs for hormone activity, cell regeneration and other biological functions related to the sleep cycle. There is ample evidence that long term sleep deprivation can cause both mental and physical problems.
While sleep is important to maintaining a healthy lifestyle, another option to help ease the mind and lower stress is to 'unplug' from the day for a full 24-hours. Turning phones and other gadgets to the Do Not Disturb Mode or even off will help aid the body in getting the rest it needs without the outside distraction of other devices.
It's a Matter of Choice
Always seek the advice of a physician to provide a full evaluation of current weight and medical conditions. Moderate exercise is typically recommended on a daily basis and can be as simple as going for a walk. Changing old habits into healthier ones really doesn't have to be a chore. Small steps can be taken to improve the quality of life and are more impactful if they are practiced every day.
To begin a low-impact exercise regimen, try these three exercises to get the heart rate up and burn calories:
Walking briskly for 30 minutes
Swimming for 30 minutes
Riding a stationary bike for 10 minutes
Healthy living begins with a conscience choice to want to make a difference in one's daily activity. Setting small achievable goals will help to stay motivated and consistent and keep you on course for the long term goal of achieving good health in the long term. It's important to stick to a regular schedule of activity, which will become a habit. Aim to do little but often in order to ingrain good habits.Creating long-term healthy habits help the body to stay fit, reduce sickness and build strong muscle mass that burns fat.
Get family and friends to join in on activities and share recipes of heart-healthy recipes. After all, staying healthy doesn't have to be a lone task. When friends and family are committed to doing the same, it will help to stay the course. Be sure to have children involved in physical activity and healthy meal planning when they are young because learning about the importance of a healthy lifestyle at an early age will create adults who strive to live healthier.